CONTACT US TODAY

302-994-0229
An Effective Grinding Service in Wilmington, DE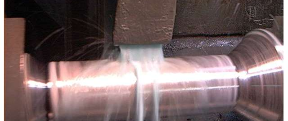 Give your products the finishing touches they need by taking advantage of our grinding service in Wilmington, DE. At Standard Technologies & Machine Co., we offer both cylindrical and surface grinding to smooth out and finish your machined goods. Our equipment enables us to make precise and accurate cuts, providing the tight tolerances needed for bearing fits, sleeves, and seals. You can also combine our grinding solutions with our coating services to finish your products with our thermal spray coatings.
High-Quality Work
As a top-tier machine shop, we understand the importance of meeting the precise tolerances of your projects. That is why we always use the latest equipment when offering our services. Our machines are equipped with diamond grinding wheels, which are strong enough to grind carbide and ceramic coatings. This ensures that we are able to accurately remove excess material from even the hardest surfaces with ease.
A Variety of Machines
For our grinding service, we have five machines set up to handle various parts. The maximum dimensions of the parts we can work on are 16" diameter by 72" long for cylindrical grinding, and 14" by 48" for surface grinding. To learn more about our capabilities, or to discuss your project, reach out to our office.