CONTACT US TODAY

302-994-0229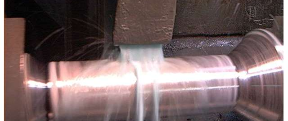 Our Surface Grinding equipment can precision grind plates, tooling, molds and other flat parts to close tolerances.
Maximum Size: 14" x 48"
This service allows us to offer close tolerances on diameters requiring bearing fits, sleeves, and seals. It also gives us the ability to finish our thermal spray coatings. Using our diamond grinding wheels we can grind carbide and ceramic coatings.
We have 5 machines and can handle parts up to:
16" diameter x 72" long